Marie Yvette Watson (Tail-Swishing)
My Stats
| | |
| --- | --- |
| Last online | 18th Sep 2008 |
| Member since | 31st Jan 2008 |
| Number of views | 1756 |
| Number of posts | 75 |
| Number of testimonials | 0 |
| Meetings attended | 0 |
My Company Information
Tail-Swishing is a family run business, designed to help parents, grandparents, family relations and friends find unusual, unique and quality gifts for the birth of a newborn baby or on a special occassion such as a christening or First Birthday celebration.
We specialise in baby gifts and products from pregnancy bump to babys birth and beyond.... Offering a wide range of eye-catching framed baby name certificates and other personalised certificates, birth announcements, baby keepsakes and unique gifts.
Tail-Swishing stocks a wide range of baby and nursery equipment, in easy to browse categories. Stock includes a range of high street brands, as well as designer stock.
We have a selection of unique and unusual toys for all ages, including traditional dolls houses, wooden toys and other great ranges, why not browse our store for that perfect present.
Tail-Swishing also works closely with other work at home parents offering support and help, we have a range of stock that offers new businesses a place to showcase their products.
We can also help you get set up in your own business venture, by joining Usborne Books, If you are looking for the following;
-Be your own boss
-Hours to suit your own lifestyle and commitments
-Work from the comfort of your own home
Then why not join Usborne today
Tail-Swishing
A fresh new approach to the online shopping experience
bringing professionalism with a personal touch.
YOUR ONE STOP BABY SHOP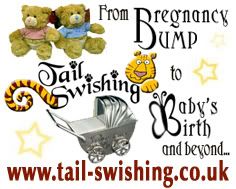 email: enquiries@tail-swishing.co.uk
website: www.tail-swishing.co.uk
directory www.tail-swishing.co.uk/directory/
add me: www.myspace.com/tailswishing
About Marie Yvette Watson
Hi my names Marie and I'm married to Andy (aka) Web Design Consultant/SEO Specialist and we have just relocated to Inverness.
I set up my own online baby gifts and keepsake business after the birth of our daughter.and we are now establishing our family business in the Scottish Highlands.